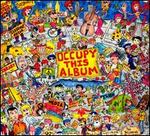 It's the eternal question for a gift-giving activist:
How do I give a good present and at the same time do good?
There is always fair trade, organic, vegan chocolates or non-toxic toys.
This year we added a musical choice.  Occupy This Album: a compilation of music by, for and inspired by the Occupy Wall Street movement and the 99%.  Lots of good stuff here.  The album artists include: Ani DiFranco, Aeroplane Pageant, Crosby and Nash, Devo, Immortal Technique, Jackson Browne, Joseph Arthur, Lloyd Cole, Loudon Wainwright III, Lucinda Williams, Patti Smith, Stephan Said, Tao Rodriguez Seeger, The Guthrie Family, Third Eye Blind, Thievery Corporation, Tom Morello, Toots And The Maytals, Warren Haynes, Willie Nelson, Yoko Ono, Yo La Tengo & more.
[youtube=http://www.youtube.com/watch?v=ws7zy5y1vN0]  
All the proceeds of the album "will go directly towards the needs of sustaining" the Occupy Wall Street movement.
Some of our favorites off the first CD of this album include:
Matt Pless kicks off the album with his call for a better world in his "Something's Got to Give" a Blowing in the Wind for a new century
Patti Smith performing a live, Occupy-inspired version of her freedom anthem "People Have the Power"
Willie Nelson still brings it with his "A Peaceful Solution" calling for the 99% to "take back America"
And that's just off the 1st of 4 CDs in this set.
[youtube=http://www.youtube.com/watch?v=j3vrdDtPuDs&feature=plcp]
If you want to put together a whole Occupy music package, there are pages of musical responses from independent artists on CD Baby.
Note: At no cost to you or Occupy, the sellers of the items listed here pay us a small commission which helps cover the cost of our peace and justice work, including the cost of this website.
Related Progressive Books:
Related progressive Holiday Ideas: