For this Earth Day, we wanted to share with you some of the movies, music, and books that have inspired us to joyfully engage in our environmental activism.
Mindwalk.  This movie is a favorite of Ian's.  It is based on the book Turning Point by physicist Fritjof Capra.  Capra is best know for his book, The Tao of Physics which removes the artificial barriers between religious understanding and scientific understanding.  The book, The Turning Point, presented the movie maker's problem of how to turn a book about the complexity of our ecological problems into a narrative.  The solution was to set it in a beautiful place,  Mont. St. Michael, France.  And set in motion a discussion between a physicist (Liv Ullmann) and poet (John Heard), and a former presidential candidate  (Sam Waterston) as they walk through Mont. St. Michael.  The narrative form also provided a solution to a lesser problem.  There was already a very famous ballet movie called Turning Point, so the Capra's movie was named Mindwalk to avoid confusion and reflect the new form.
[youtube=http://www.youtube.com/watch?v=hMZ9xwfmNvs]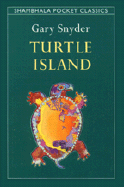 Turtle Island. My copy of Turtle Island by Gary Snyder is  dog-eared and bookmarked, notated and scribbled over.  It is a Pulitzer prize-winner and instantly accessible.  It is over 35 years old, and immediately relevant.   It is mostly poetry,  with a few poetic essays on legislating a better world.  It is a small book that is full of much more than many big books.  It is a book that I have often used at readings.
Oh, where to start?  The factoids and essays condemning our fossil fuel economy and its turn toward nuclear energy is timing as the US funds the first new nuclear plant in 30 years, but this is a book of poetry after all.
In the section called Magpie's Song, a selection from the poem Mother Earth: Her Whales:
The whales turn and glisten, plunge
and sound and rise again,
Hanging over subtly darkening deeps
Flowing like breathing planets
in the sparkling whorls
of living light —
Green by R.E.M. Now I don't claim that R.E.M. sees Green as their environmental album or sees any of the songs the way I see them, but in my defense Robert Frost always claimed that the poem The Road Not Taken was solely about a walk in the woods.  On the other hand, when the title of album is Green, am I really making that much of a stretch?
For instance, Michael Stipe has said that "Get Up" is about his inability to arise on time to make daily commitments.    But like Frost's poem, it also applies to to larger action.  Get Up is a call to action to me.  To arise and take action against environmental degradation.
[youtube=http://www.youtube.com/watch?v=rPIEBohSojI]
Related: