Click, Clack, Moo Cows That Type by Doreen Cronin is the Royal Book of the Week for 8/22/2011.  Duchess Susanna and I have loved this children's book for years, and were not surprised to find it for sale two years ago on a union website as a gift for children.  With the current drive to destroy good, middle class jobs by union-busting, this book seems even more timely.
This book is the best example we have ever seen to inspire a love of writing, and a feeling of empowerment. Talk about the power of the pen! Spoiler Alert! When Farmer Brown's cows find a typewriter in the barn, they realize they can start making demands. They go on strike when the farmer refuses to give them what they want.
There is also a DVD of Click Clack Moo: Cows That Type
[youtube=http://www.youtube.com/watch?v=z_kBLJIYEiI]
Doreen Cronin's understated text and Betsy Lewin's expressive illustrations make the most of this hilarious situation. Come join the fun as a bunch of literate cows turn Farmer Brown's farm upside down. Buy a copy of this book for:
your activist friends as comic relief;
the children of your conservative friends to subvert them;
children who haven't yet figured out that writing can equal self-expression and liberation.
This book was a 2001 Caldecott Honor Book and was named one of the Best Children's Books 2000 by Publisher's Weekly. Make a complete gift with the Click, Clack, Moo Cow Doll: 6.5″ Seated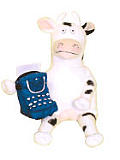 Related articles