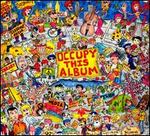 It's the eternal question for a gift-giving activist:
How do I give a good present and at the same time do good?
There is always fair trade, organic, vegan chocolates or non-toxic toys.
This year we added a musical choice.  Occupy This Album: a compilation of music by, for and inspired by the Occupy Wall Street movement and the 99%.  Lots of good stuff here.  The album artists include: Ani DiFranco, Aeroplane Pageant, Crosby and Nash, Devo, Immortal Technique, Jackson Browne, Joseph Arthur, Lloyd Cole, Loudon Wainwright III, Lucinda Williams, Patti Smith, Stephan Said, Tao Rodriguez Seeger, The Guthrie Family, Third Eye Blind, Thievery Corporation, Tom Morello, Toots And The Maytals, Warren Haynes, Willie Nelson, Yoko Ono, Yo La Tengo & more.
[youtube=http://www.youtube.com/watch?v=ws7zy5y1vN0]   Continue reading Occupy Holiday Gifts →